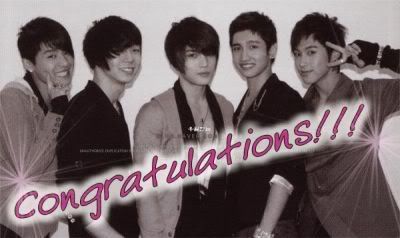 Today's morning seem to be ordinary and lazy, as always Sunday morning ... when I woke up and I saw gloomy weather behind my window, my mood fall to zero Y__Y it was really sucks Y__Y
but then I saw this news at 'Popseoul' site:

[2008 MKMF] Dong-bang-shin-ki wins "Album of the year"
[2008 MKMF] Big Bang takes home "Best Artist of the Year"
this make me sooooo HAPPY! =) now I'm happy like a crazy !!! and this day is the best day of this week or even month =)
Here you have a full list of the winners:


Daesang
Song - Wonder Girls, "Nobody"
Artist - Big Bang
Album - TVXQ, "Mirotic"
Best Artists
Female - Lee Hyori
Male - Seo Taiji
Girl Group - Wonder Girls
Boy Group - Big Bang
New Female - Davichi
New Male - SHINee
Genre
Dance - Lee Hyori, "U-Go-Girl"
Ballad/R&B - Brown Eyes, "Don't Go, Don't Go" (가지마 가지마)
Hip-Hop - Epik High, "One"
Rock - Nell, "Time of Collecting Memories" (기억을 걷는 시간)
House/Electronic - Jewelry, "One More Time"
OST - Kim Jong Kook & SG Wannabe, "Go Back to Fate" (운명을 거슬러)
Music Video
Wonder Girls, "Nobody"
Best Director - Wonder Girls, "Nobody"
Special Awards
Auction Netizen Popularity - TVXQ
Overseas Viewer - TVXQ
Auction Style - TVXQ
Mobile Popularity - TVXQ
Mnet KMPD Special - Shin Seung Hoon
10 Year Anniversary Remember 1999 - HOT
Music Portal - Big Bang
Digital Music - Big Bang
and who makes my cry like a fool??

oh well, first was Changmin ...
[CLICK]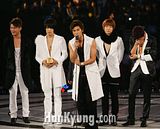 and scound was Big Bang boys, their happy faces and TOP - healthy, handsome, a little bit shy and cute too:
[CLICK]